"To us and to all there is no sufficiency, no blessedness, no peace to be derived from the goodness of another, not even the goodness of God; not until the goodness is done by us, not until it is, by constant effort, incorporated into our being, can we know and possess its blessedness and peace. Therefore, thou who adorest Jesus for His divine qualities, practice those qualities thyself, and thou too shall be divine.
The teaching of Jesus brings men back to the simple truth that righteousness, or right-doing, is entirely a matter of individual conduct, and not a mystical something apart from a man's thoughts and actions, and that each must be righteous for himself; each must be a doer of the word, and it is a man's own doing that brings him peace and gladness of heart, not the doing of another.
It is only the doer of forgiveness who tastes the sweets of forgiveness."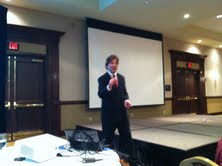 Steve Pohlit, Founder
Manifest Mastermind
International Business Turnaround and Development Consulting
Real Estate Investment Consulting
Executive Coach
Connect With Steve On:
727-587-7871
Steve Pohlit is a CPA,MBA and has been the CFO of several major domestic and international companies. Today Steve is an expert business consultant focused on helping companies improve their business performance including growing profits, revenues and customers. For a FREE 6 week mini course where you will receive 10 easy to implement action steps guaranteed to increase business revenue and profits by at least 30% in the next 90 days, please visit www.StevePohlit.com  All articles published by Steve unless specifically restricted may be freely published with this resource information.